$3,000,000 in total prize pool up for grabs at the SI 2024
The Six Invitational 2024 will feature on-site activities and reveals for Year 9 in Rainbow Six Siege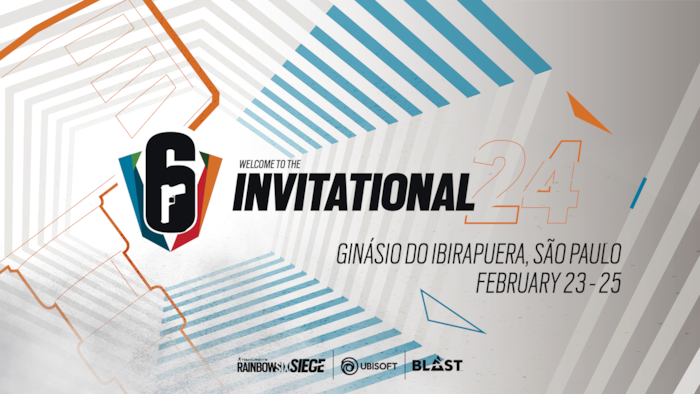 Today, Ubisoft and BLAST have released details for the prestigious Six Invitational 2024, which is set to take place in São Paulo, Brazil from February 13 to 25 at the Ginásio do Ibirapuera with $3 million in prize pool winnings on the line.
Tickets are available here:
https://www.eventim.com.br/six-invitational-2024
The Six Invitational is the pinnacle of the season in BLAST R6, rounding off 12 months of fierce competition with the world's best 20 teams competing for the most prestigious trophy in Rainbow Six Siege - in the shape of an iconic hammer.
The Six Invitational 2024 will be split across three phases over two weeks of competitive Siege action in São Paulo. Culminating in a much-awaited final weekend in front of a live audience at Ginásio do Ibirapuera, the best teams will give it their all to be crowned this year's World Champions.
DATES & LOCATION
Groups: February 13th - 17th – not open to public
Playoffs - Part 1: February 19th - 21st – not open to public
Playoffs - Part 2: February 23rd - 25th – open to the public at the Ginásio do Ibirapuera

The Six Invitational 2024 will take place in Latin America for the first time in Rainbow Six Esports history. Brazil is well-known for having some of esports' most passionate and vibrant fans, especially in Rainbow Six Siege, with the event expected to enjoy a packed out arena.

Don't miss anything about the upcoming BLAST R6 Six Invitational by following us on Twitter, Instagram and on our website.
About Ubisoft
Ubisoft is a creator of worlds, committed to enriching players' lives with original and memorable entertainment experiences. Ubisoft's global teams create and develop a deep and diverse portfolio of games, featuring brands such as Assassin's Creed ®, Brawlhalla®, For Honor®, Far Cry®, Tom Clancy's Ghost Recon®, Just Dance®, Rabbids, Tom Clancy's Rainbow Six®, The Crew®, Tom Clancy's The Division®, and Watch Dogs®. Through Ubisoft Connect, players can enjoy an ecosystem of services to enhance their gaming experience, get rewards and connect with friends across platforms. With Ubisoft+, the subscription service, they can access a growing catalog of more than 100 Ubisoft games and DLC. For the 2020-21 fiscal year, Ubisoft generated net bookings of €2,241 million. To learn more, please visit: www.ubisoftgroup.com.
© 2023 Ubisoft Entertainment. All Rights Reserved. Ubisoft and the Ubisoft logo are registered trademarks in the US and/or other countries.
About PLAION
PLAION is a leading independent developer and producer of games and entertainment products, with nine development studios and five publishing units based all over the world. Founded in 1994 as Koch Media, PLAION offers a unique breadth of services and solutions, dynamically growing its business to push ourselves and our partners to the forefront in all the segments we operate in.

PLAION runs a multi-label strategy, with fully owned publishing units, such as Deep Silver, Prime Matter, Milestone, Vertigo Games and Ravenscourt, publishing games for consoles, PC and VR platforms across all physical and digital channels.

Additionally - as a global publishing partner - PLAION has formed long-term multinational publishing collaborations with numerous game publishers including Activision Blizzard, Bethesda, Capcom, Focus Multimedia, Giants Software, Koei Tecmo, Paradox, Sega, SNK, Square Enix, Techland, THQ Nordic, Tripwire, Warner Bros and many others.

With its parent company in Höfen, Austria - and the HQ in Munich, Germany - PLAION owns local publishing companies in Germany, UK, France, Spain, Italy, Sweden, the Netherlands, Austria, Switzerland, Poland, Australia, the United States as well as Japan and Hong Kong.

PLAION owns nine game development studios: Deep Silver Dambuster Studios (Nottingham, UK), Fishlabs (Hamburg, DE), Warhorse Studios (Prague, CZ), Milestone (Milan, IT), Voxler (Paris, FR) , DigixArt (Montpellier, FR), Flying Wild Hog (Warsaw, Kraków, Rzeszów, PL), Free Radical Design (Nottingham, UK) and Vertigo Games (Rotterdam, Amsterdam, NL). Additionally, PLAION collaborates with numerous independent development studios around the world.

Part of PLAION is also PLAION PICTURES, a leading independent film distributor in Europe with a library of more than 1.400 titles. Further business operations include Sola Media, a sales agency and production company for family entertainment, Spotfilm Networx, a multi-channel streaming network, and a sub-label dedicated to Japanese animation.

PLAION also owns the leading video game merchandise company DPI Merchandising (Denver, Roseburg, USA and Munich, DE) and a Quality Assurance Facility in Olomouc, CZ.

PLAION is an Embracer Group company.